Radar Level Transmitter
Home
-
Radar Level Transmitter
Power Plant

Coal & Ore Mines

Steel Plant

Paper & Pulp

Petrochemicals

Fertilizers Plant

Pharmaceutical

Chemical Plant

Cement Plant

Water & Wastewater
Radar Level Transmitter (6.3, 26 & 80 GHz)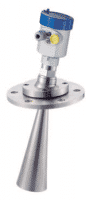 Non Contact Radar Level Transmitter consist of a family of Radars with a frequency range of 6.3 GHz and 26 GHz Pulse Radars and 80 GHz FMCW Radar. The offered Radars are available in different configuration and process connections as per customer requirement. These Radar Level Transmitters are in service and high demand with our customers due their proven track record and high level of customisation.
The Radar Level Transmitters are excellent devices for non contact level measurement. The microwave impulses, emitted by the radar's antenna, travel at speed of light and a part of their energy, reflected by the surface of the medium to be measured, is received by the same antenna. The period of time (flying time) between the emission and the arrival of the impulses, is proportional to the existing distance between the antenna and the surface of the medium to be measured.
The electromagnetic wave travels at a very high speed (nanosecond), so it is difficult to identify it: Our Radar Level Transmitters however, through it's integrated management system, use a suitable demodulation technology that allows them to identify the period of time between the emission of the impulses and their corrected reception and, consequently, determine and measure the level.
The Alphanumeric Display allows the user not just to enter the data for the level measurement, but even to display and isolate false echoes .
EIP_WARE is a software for the configuration and calibration of the units with a PC is available too, it has HART communication protocol and it is used with a standard HART MODEM.
An advanced microprocessor and the "EchoDiscovery" technology make the device suitable for measurements in critical areas with hard conditions, such as high temperatures and high pressure. The function "False Echo Storage" identifies the correct echo, even if there is a false echo: in this way a correct measurement is gained. An integrated temperature sensor compensates the temperature in realtime.
The Radar Level Transmitters can be installed both in metallic or non metallic tanks\ their use is not harmful to humans or environment.
Solids
Coal Bunker
Fly Ash Silo
Cement Silo
Clinker Silo
Iron Ore Bins
Pellet Silos
Sinter Silos
RMHS Silos
Coke Silo
PP/ PTA/ LDPE Silos
Pain Silo
Urea Silos
Phosphate Silos
Dust Bins
Grain (All kinds of Grains) Silos
Ground Bunkers
Bulk Chemical Storage Silos
Other Silos storing Bulk Solids and Powders
Liquids
Acids
Alkalies
Fuel Oils
Water
Slurry
Steam Applications
Liqor
Milk
Other Liquid and Slurry Applications
CW 51 to CW 53 – Radar at 6.3 GHz Frequency of Operation (Pulse)
CW 55 to CW 58 – Radar  at 26 GHz Frequency of Operation (Pulse)
CW 59L and CW 59S – Radar at 80 GHz Frequency of Operation (FMCW)
Note : Download the catalogue for more details on the individual models
Preferred Applications: Solids, Liquids and Slurries
Measuring Range: 70 meters/ 120 meters
Process Temperatures: -40°to +400°C
Process Pressure: -0.2 – 40 bar
Signal Output: 2 Wire/ 4-wire with 4 – 20 mA/HART
Emitting Frequency: 6.3 or 26 GHz or 80 GHz
Supply Voltage: 20 to 32 VDC/ 110 VAC/ 230 VAC
Power Consumption: Max 1.5 W @ 24 VDC
Hazardous Locations: Explosion Proof and Intrinsically Safe
26 GHz Radar Level Transmitter – Click here to download the catalogue
6.3 GHz Radar Level Transmitter – Click here to download the catalogue
80 GHz Radar Level Transmitter – Click here to download the catalogue