Power Plant

Coal & Ore Mines

Steel Plant

Paper & Pulp

Petrochemicals

Fertilizers Plant

Pharmaceutical

Chemical Plant

Cement Plant

Water & Wastewater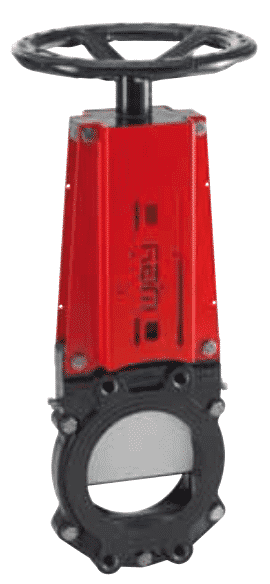 Wey Knife Gate Valves are worldwide in service since decades. Their relia­bility is so outstanding as its competitiveness. The valves stand for bi­direc­tional zero­ leakage shut­off, qualify for most kind of fluids of various con­sistencies and have taken a leading international position due to their wide range of applications. Wey Knife Gate Valves have proven records in waste­ water treatment plants, in pulp and paper, food and beverage, chemical and petrochemical industries, silo works and bulk material handling, mining and energy plants, in oil sand extraction and dust explosion prevention
The unique Wey sealing system for high performance duties : The Wey Knife Gate Valve is built to high quality manufacturing standards and combines rugged construction with time- tested design refinements found in no other knife gate valve. This unique valve design assures long-life reliability and bubble- tight shut-off due to the joint action of various factors during the closing stage.
Tight shut-off due to the sealing function on the lateral gate side. Fine surface ground finish of the gate ensures smooth operation and long-life seal performance. Mechanically retained seal prevents «pull-out».

Gate guides on full stroke length ensure flutterand noise free operation and bi-directional bubble tight shut-off at full design pressure in combination with above sealing features.

During final closing stage, remaining solids are sheared off by knife-like gate and body cutting edge.

Special gate geometry prevents jamming during closure because deposits are pushed ahead by the gate into enlarged flushing corners of the body. Contoured body interior initiates pushing action to prevent build-up and jamming of deposits in seat area.

Unique Wey transverse seal eliminates stuffing box. A special lip-seal pro le ensures for no leakage to atmosphere. Diamond shaped, compressed sealing compound provides necessary sealing pressure, compensates for wear and stands for outstanding service life performance under normal conditions.

Minimized chest area between port and transverse seal leaves no space for solid build-up or jamming.

By tightening packing screws or inserting sealing com- pound pellets, repacking under full pressure and without system shut-down is always possible. Considerable time/ cost savings in maintenance work persuaded customers for decades to install Wey Knife Gate Valves.
Additional Features
Solid steel topwork provides maximum strength, partial disassembly of support for easy access to mechanical parts, and facilitates mounting of

mechanical or proximity limit switches

solenoid valves

Non-rising stem design (VNA) saves space and offers shiel- ded stem, stem nut operation.

The cushioned (shut) pneumatical cylinder (VNC) prevents pressure shocks and initiates ushing action.

As an option pneumatic cylinder can be supplied with mag- net piston design, together with proximity-magnet end- switches directly mounted on cylinder.

  Topwork is designed in accordance to latest European Hu- man Safety Regulations.

Epoxy powder coating EKB for body and topwork with stainless steel screws provide excellent corrosion protection.

Semi-lug type design provides for ease of installation and permits dead-end service.

Full bore opening effects low pressure drop and permits the use of all known pigging devices (e.g. spherical, cylindrical, brush pigs, etc.)
Wastewater – Municipal wastewater, Industrial wastewater, Sludge treat­ment, Shipbuilding

Industry and process technology – Chemical industry, Steelworks, Biomass, Food and Beverage, Oil/Gas, Pulp and paper, Drilling mud

Energy – Desulphurisation, Water treatment, Cooling water, Ash handling

Mining – Solid extraction, Sludge transport, Gravel treatment, Oil­ sand transport

Water – Water treatment, Water transport, Water intake from lake or river

Building service – Effluent, Process water, Potable water, HVAC industry

 
Refer catalogue in the download section for more details 
Size – DN 50 – DN 1400, larger size on request

Seal – NBR, EPDM, FPM, PUR, AFLAS, PTFE, Ceramic

Flange drilling – EN 1092, ASME B16.5/B16.47 class 150/300

Material – Cast iron EN­JL1040, Ductile iron EN­JS1030/1072, Cast steel, Stainless steel 1.4408, Duplex 1.4470, Titanium, Hastelloy, Aluminium, others

Pressure rating/Vacuum – 10 bar, 16 bar, 25 bar, 40 bar, 100 bar / to 10 mbar absolute

Temperature – Minus 50 to 230°C at max. operating pressure 240 to 400°C at atmospheric pressure
Application
Wastewater – Municipal wastewater, Industrial wastewater, Sludge treat­ment, Shipbuilding

Industry and process technology – Chemical industry, Steelworks, Biomass, Food and Beverage, Oil/Gas, Pulp and paper, Drilling mud

Energy – Desulphurisation, Water treatment, Cooling water, Ash handling

Mining – Solid extraction, Sludge transport, Gravel treatment, Oil­ sand transport

Water – Water treatment, Water transport, Water intake from lake or river

Building service – Effluent, Process water, Potable water, HVAC industry
Wey Knife Gate Valves Product Catalogue – Click here to download